tbsm is an application or session launcher, written in pure bash with no ncurses or dialog dependencies. He is inspired by cdm, tdm, in some way by krunner and related.
It was attempted to design the behavior of tbsm to be as less pesky as possible, and to start daily tasks with as less key strokes.
Furthermore is there the possibility to customize his look by themes.
Last version is 0.4 released Oct, 2017
Release Notes
682e371 - Only start X session from tty
          This patch is pretty untested and breaks hopefully no use case
cfc4134 - New command exit/X to logout from tty
0422ab7 - Fix broken .desktop checking / parameter building
          Some session didn't start because of this and the too much parameter
d7ddd83 - Don't start a session when not running in tty
          Treat all in /usr/share/xsessions as such and with Type=XSession
e9b76ec - Don't 'exec' terminal programs, just start them
          Bad idea?
daf86d9 - Add display name to XserverArg
          Done by simply use the tty number as X display name
c16c915 - Review verbosity
          You may notice some more chattering but verboseLevel=2/info should be
          ok for daily work, neverless level 3/verbose is default now to become
          familar

The full changelog can you find here.
Screenshots
These shots are here to give you an idea what you will get.
tbsm with tulizu
That's how my login screen looks after a while with an issue file of tulizu and the default tbsm theme.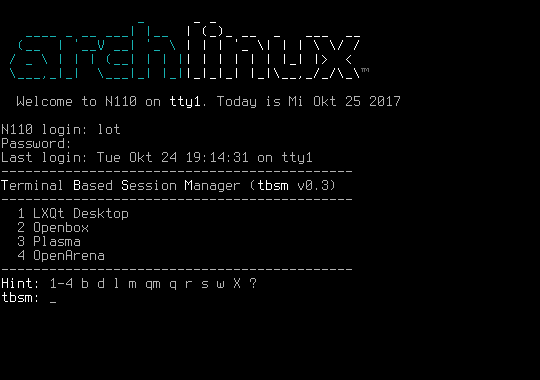 gently theme after a while giving a hint

austere theme after return with quick menue

riddler theme

Install
Packages
Arch users find it in AUR
From Source
cd into the downloaded source tree and simply run:
To remove, which you will of cause never do, run:
Post Install Tasks
To auto start tbsm after login edit your ~/.bash_profile, or similar, and append to the end something like:
# Auto start tbsm after login on first two VTs
[[ $XDG_VTNR -le 2 ]] && tbsm

NOTE: Ensure you start no other display manager
And it may wise to run:
License
GNU General Public License (GPL), Version 2.0